Dear Diaspora Kenyan and Friend,
Over the years, Diaspora Kenyans have come together, created and progressed what is today the Diaspora University Town (DUT) project. The project is ongoing in Taita Taveta County, Kenya.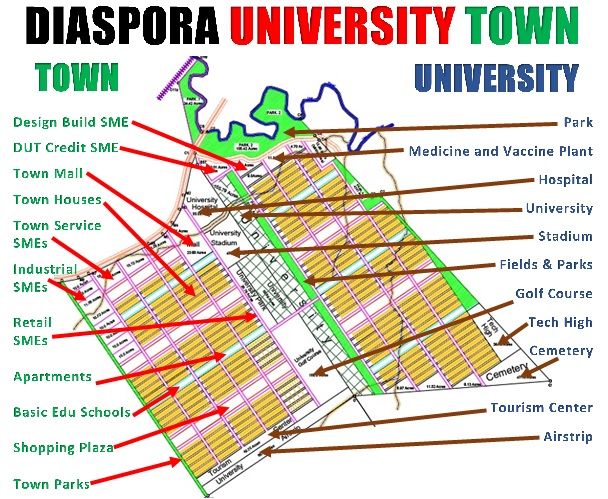 We are developing a university with WPI University in Worcester of the state of Massachusetts in the USA. www.wpi.edu
We are developing a Medical Hospital, Medicine Vaccine Plant, Financial institution and SMEs. www.dut.or.ke
The DUT project is for Jobs Creation and Houses Development. The project is for advancing university education, healthcare standards, planned settlements, environmental quality and other social rights.
The advancement achieved by use of systems and plans like those that create jobs, quality healthcare and other lifestyle in the developed countries.
We write this letter to invite Diaspora Kenyans to join us through the FOUR (4) INVESTMENTS.
DUT Townhouse Developer www.dut.or.ke/thd/
An investment that one become a developer of the townhouse/s planned in Diaspora University Town.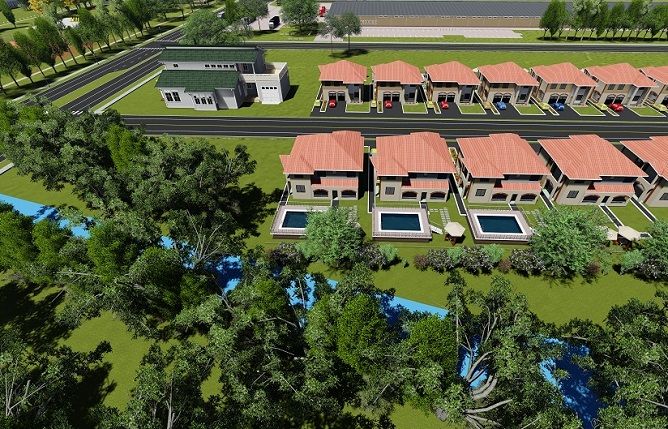 2. Daktari Biotechnology Medicine & Vaccine Plant Shares www.dktb.co.ke
An investment for building a medicine and vaccines plant that Dr. Endege and Dr. Edagwa can produce medicines and vaccines in using their technologies and innovations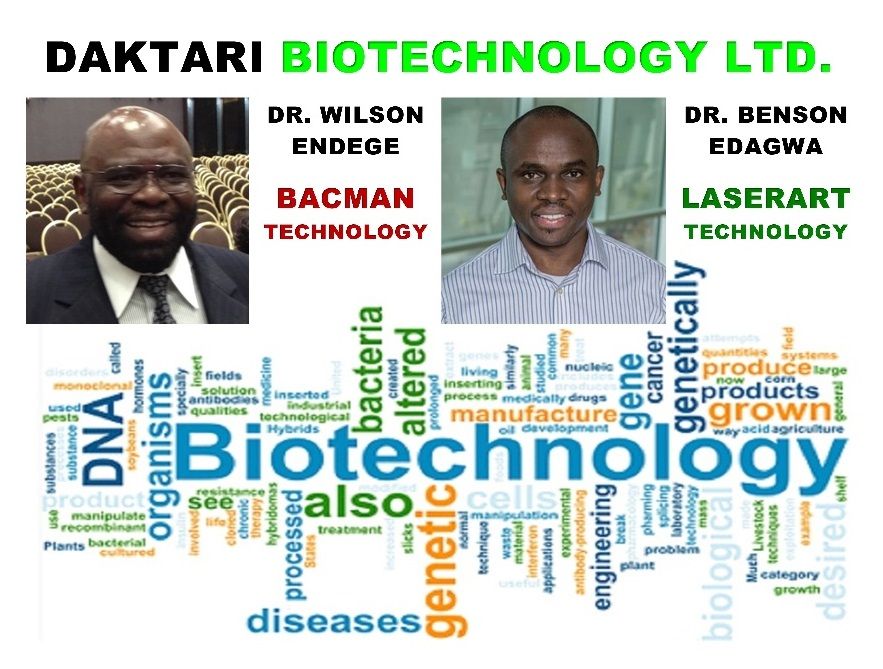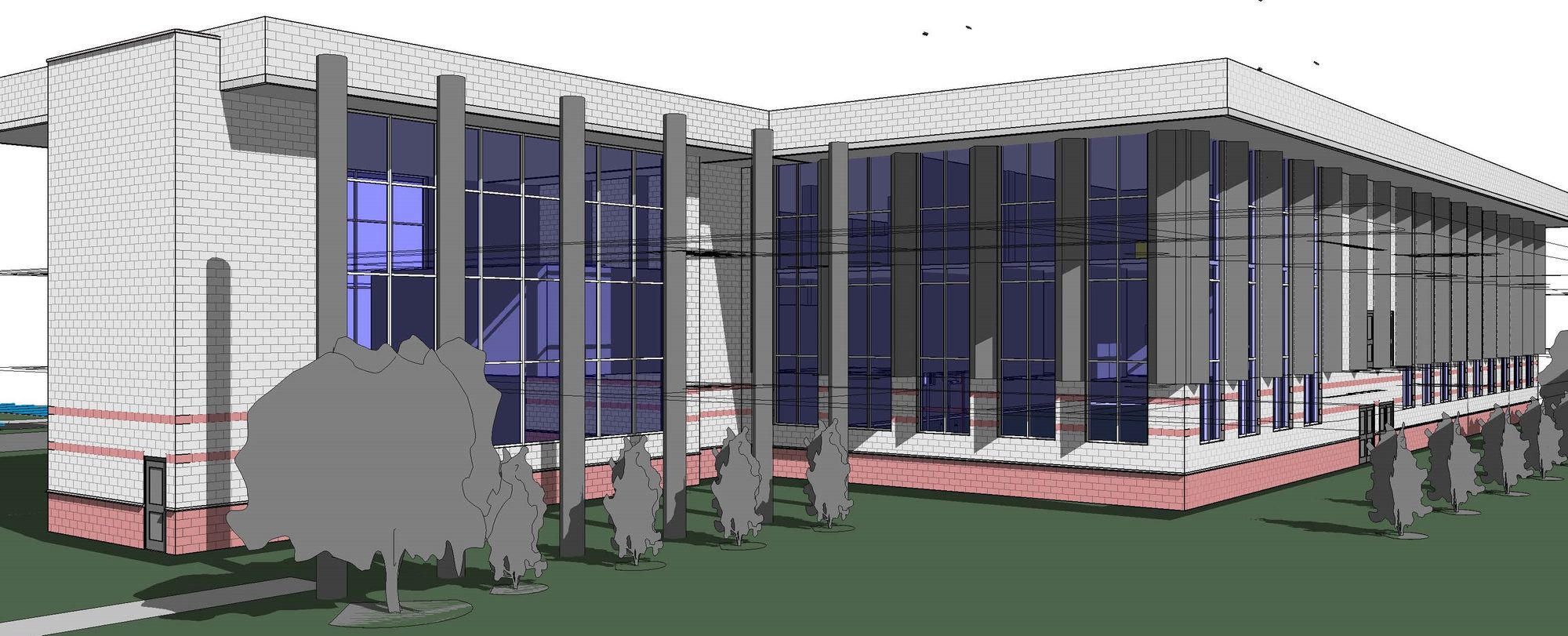 3. DUT Credit Ltd Shares www.dutcredit.co.ke
An investment in shares of DUT Credit Ltd, a financial institution. We currently have applied for a MFB license.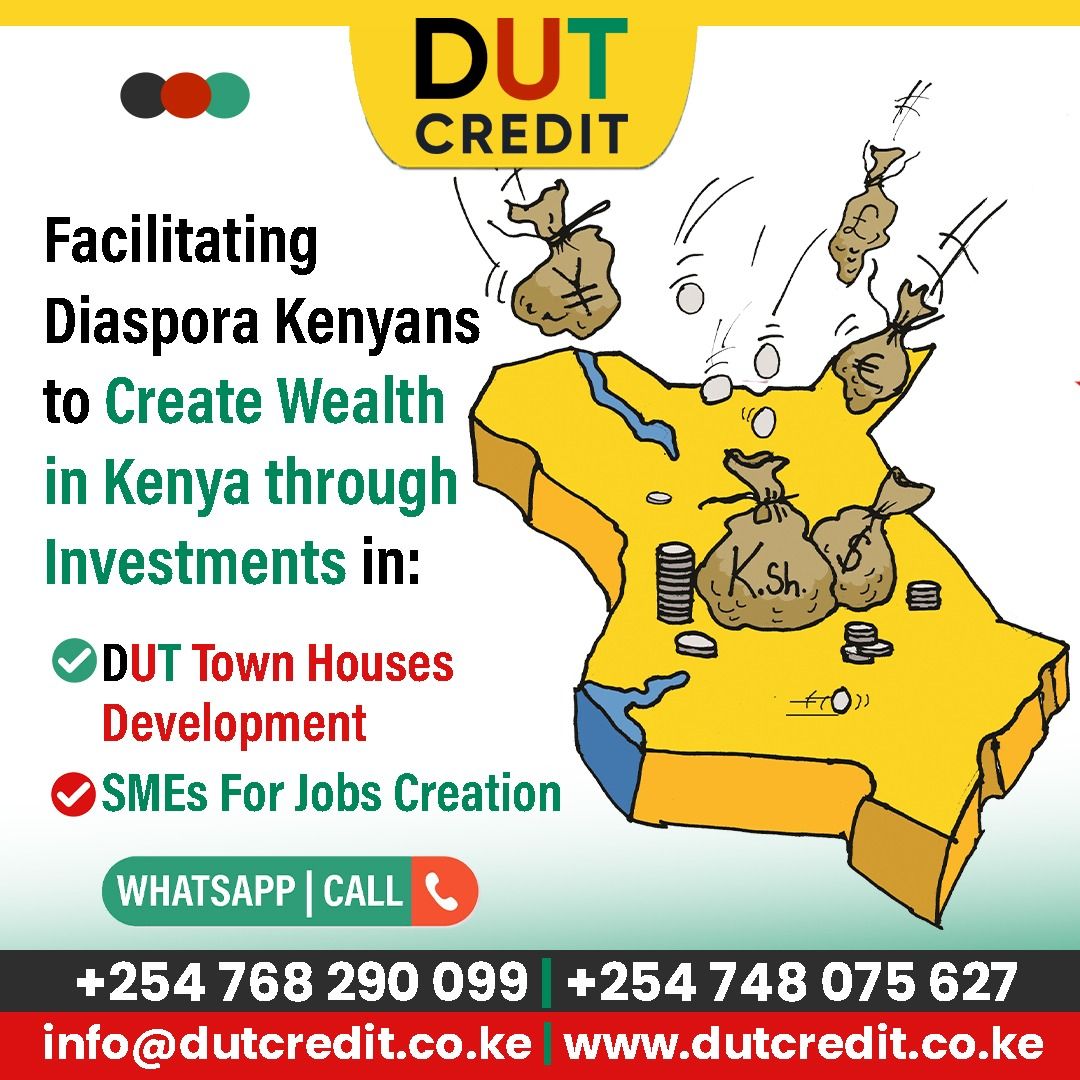 4. SMEs (Small Medium Enterprises) www.dut.or.ke/sme/
An investment of opening a Small, Medium Enterprise (SME) at DUT.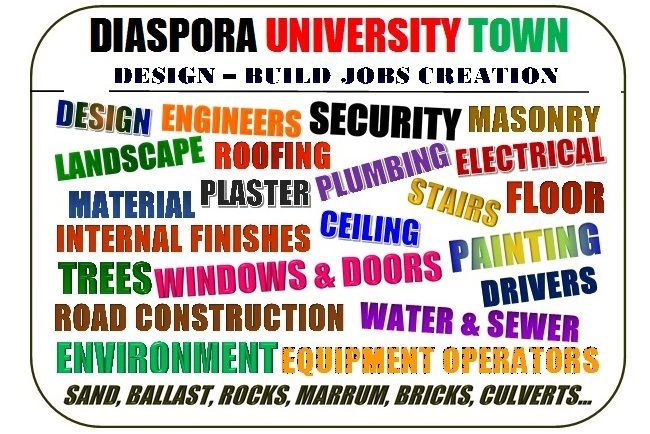 The development plan we have created will progressively create jobs and develop houses. This is similar to the jobs creation and houses development that has enabled and continues to enable us live in U.S., Canada, U.K, Europe and other Diaspora Countries.
We invite you based on the fact that the towns, institutions and companies we work and live in resulted from investments.
In 1865 a letter invited residents of Worcester to build a university building. 225 residents of Worcester responded. Today WPI University continues to create thousands of jobs directly and indirectly in the city of Worcester, MA.
We have tailored the investment plans so everyone of us in Diaspora can participate.
DUT TOWN HOUSE DEVELOPER www.dut.or.ke/thd/
By investing $100 (£75) a month for next 60 months you shall develop a town house, create jobs, be a university founder, and offer university education opportunity.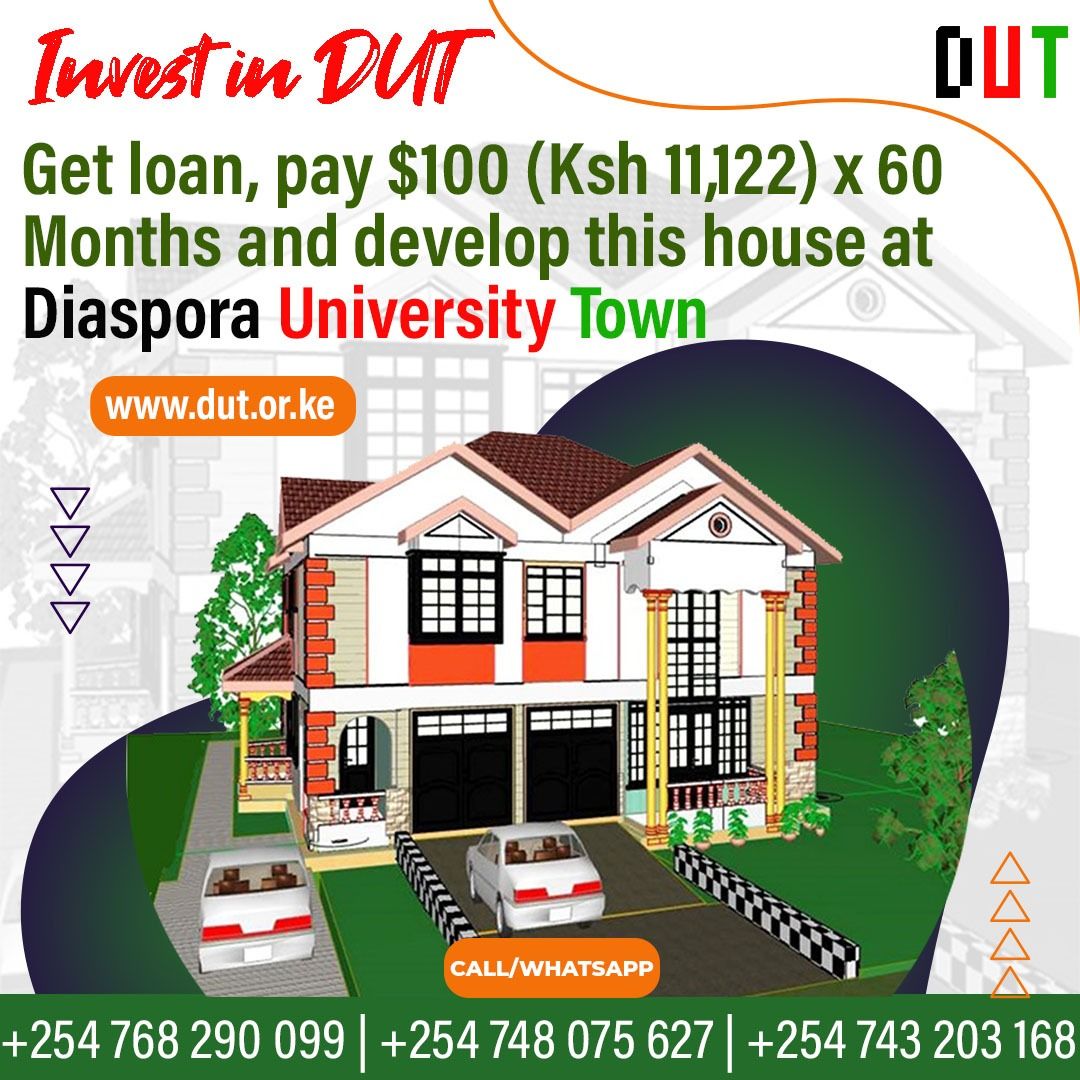 DAKTARI BIOTECHNOLOGY
By investing $45 (£30) a month for next 60 months you shall build a medicine vaccine plant, improve the quality of healthcare in Kenya, and create jobs in medicines & vaccines production and dispensing jobs of Doctors, Pharmacists, RNs, LPNs & other jobs.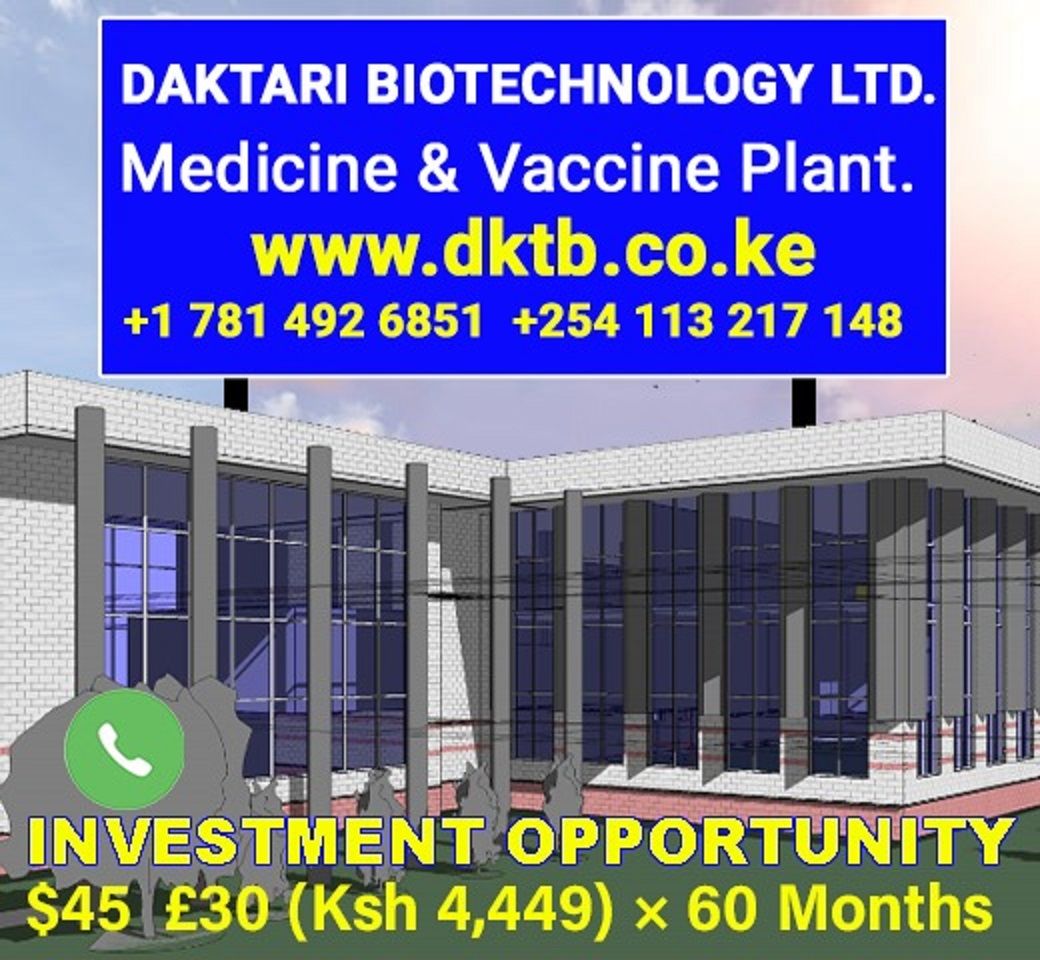 JOIN US
Let us build Kenya. Let us create Jobs.
Visit any of the websites www.dut.or.ke  www.dktb.co.ke  www.dutcredit.co.ke
CALL/WHATSAPP