Prof. Philliph Mutisya, one of the esteemed co-founders of Diaspora University Town, paid a visit to the site in Voi, Kenya. Prof. Mutisya was accompained by Teiji Kimball of the U.S who is visiting Kenya and looking for investment opportunities.
A Beacon of Educational Excellence
Prof. Mutisya's academic journey is nothing short of exceptional. With a Doctorate Degree (Ed.D.) in Instructional Leadership, specializing in Curriculum Development in Multicultural and Bilingual Education, and a Master's Degree (M.Ed.) in International Education, focusing on Training and Development in Non-formal Education, he brings a wealth of knowledge and expertise in the Diaspora University development.
With over 28 years in academia, Prof. Mutisya has honed his skills in instructional leadership, curriculum development, and professional development for educators. He has enriched the educational landscape at renowned institutions such as North Carolina Central University, North Carolina State University, and University of North Carolina at Fayetteville.
At the DUT Building Materials
The visitors went to the DUT building material location. The host Dan Kamau formerly of Worcester, MA showed the visitors the site saying, "We are establishing building materials production systems that will be able to produce the materials needed for the construction. This systems will be used by the community to produce materials through the 14 industries the community is opening."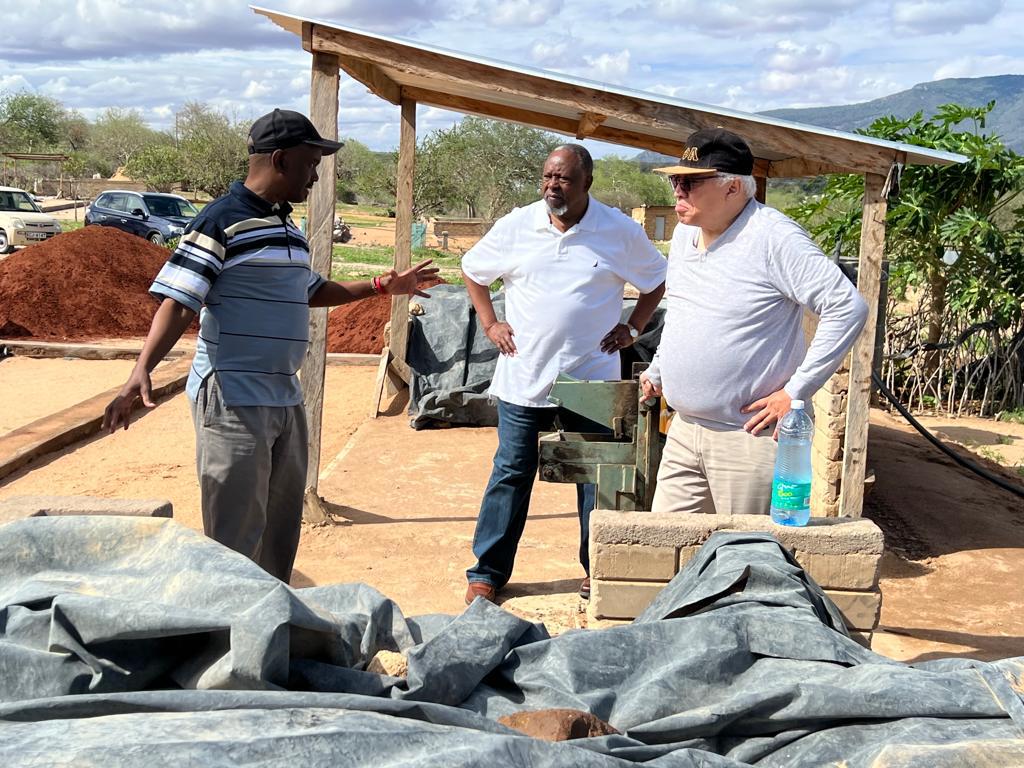 Tree Nursery
The visitors also had an opportunity to visit the project's tree nursery. They were happy to see over 20 species of trees that will be planted in DUT. The nursery is an integral part of DUT vision, it will ensure the town is not just a concrete jungle, but a lush green haven. These trees provide shade, oxygen, and contribute to biodiversity, making them crucial for a sustainable and harmonious environment.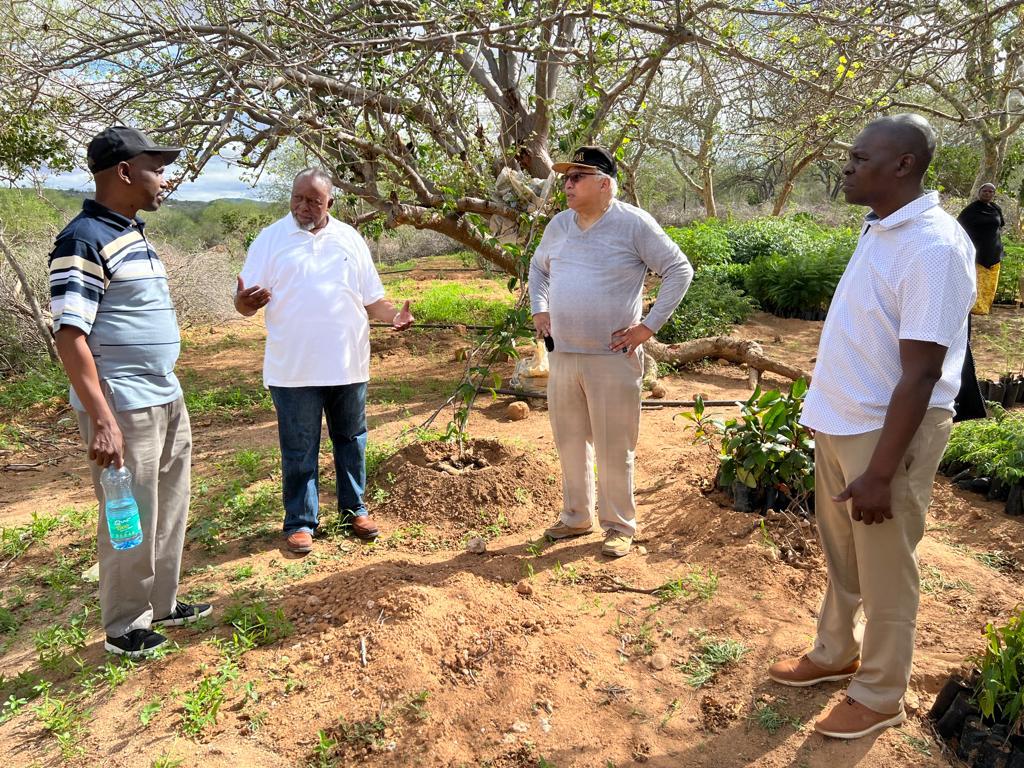 Empowering Kenyans
This visit provided an exceptional opportunity for the visitors to interact with Kenyans working at the site. Prof. Mutisya on hearing the positive messages said, "We in the Diaspora are committed to progress the project."
During the construction phase, there will be a surge in job opportunities. This will empower individuals with income. Additionally, the completed project will continue to stimulate economic growth, attracting new businesses, boosting local commerce, and creating a sustainable economic ecosystem.
Encouragement and Appreciation
His visit would not be complete without connecting with the incredible individuals working tirelessly to make the DUT dream a reality. Prof. Mutisya made his way to our DUT head office in Red Elephant Plaza, Voi town, along the Nairobi-Mombasa highway. He received a comprehensive briefing on the progress made and the upcoming plans to expedite the project's completion. His presence filled those in Voi with renewed motivation and dedication. During the interaction with the entire team, he expressed his approval of the progress achieved thus far and inspired us to continue forging ahead with unwavering determination.
The Benefits Of Diaspora University Town
1.Advancing Education and Nurturing Leaders
DUT through Diaspora University is poised to revolutionize education in Kenya and make a significant contribution to global development. By providing high-quality education, Diaspora University will empower students to become future leaders and professionals, propelling progress in various fields.
2. Hospital
In addition to the university, the project includes the establishment of a state-of-the-art hospital, ensuring access to superior healthcare facilities for the local population, country and visitors.
3. Town
With a town plan of 3,000 acres, the project envisions the creation of a thriving community comprising 90,000 residents.
4. Economic Empowerment through Entrepreneurship & MSMEs
DUT is providing a fertile environment for entrepreneurship to flourish. As the project progresses, nearly 500 micro, small and medium-sized enterprises (MSMEs) will open their doors, generating job opportunities and catalyzing economic development in the region.
Joining DUT Journey Towards Progress
We extend a warm invitation to potential investors who share our vision of transforming lives through education and sustainable development. By becoming a part of the Diaspora University Town project, you have the opportunity to make a lasting impact on the lives of countless individuals and communities.
We also welcome partnerships with individuals and organizations who share our passion for education, infrastructure development, and community empowerment. Together, we can unlock endless possibilities and shape a better tomorrow for Kenya.