In the 1960s Diaspora Koreans took manufacturing companies to South Korea. Today South Korea's Gross Domestic Product (GDP) is $1.6 trillion. In the 1980s the Diaspora Chinese took manufacturing to China. Today the GDP of China has grown to $15 trillion. Diaspora Kenyans founding and developing Diaspora University Town (DUT) are working to bring 50 manufacturing companies to Kenya.
The DUT Diaspora Kenyans are working on bringing medicine manufacturing products manufacturers, medical supplies manufacturers, producers of building material, ICT products producers, motor vehicle manufacturers and others. The companies once set up in Kenya will sell products to three markets.
The first market is the DUT project. DUT development and sustenance will consume millions of units of products. The products bought during the development and thereafter in the day-to-day operations and activities in the Town.
The second market will be the competition with the imports. Kenya currently imports products of over $15 billion or Kshs 1.5 trillion yearly. The companies that set up will be able to compete with the foreign suppliers. The location of DUT close to the SGR that transports imports will enable companies to supply the Kenya market through the SGR.
The third market is the growth of Kenya Gross Domestic Product (GDP). Kenya GDP is currently at about $110 billion. As DUT and other development plans are implemented in Kenya, the GDP of Kenya will grow and pass the $500 million before 2040.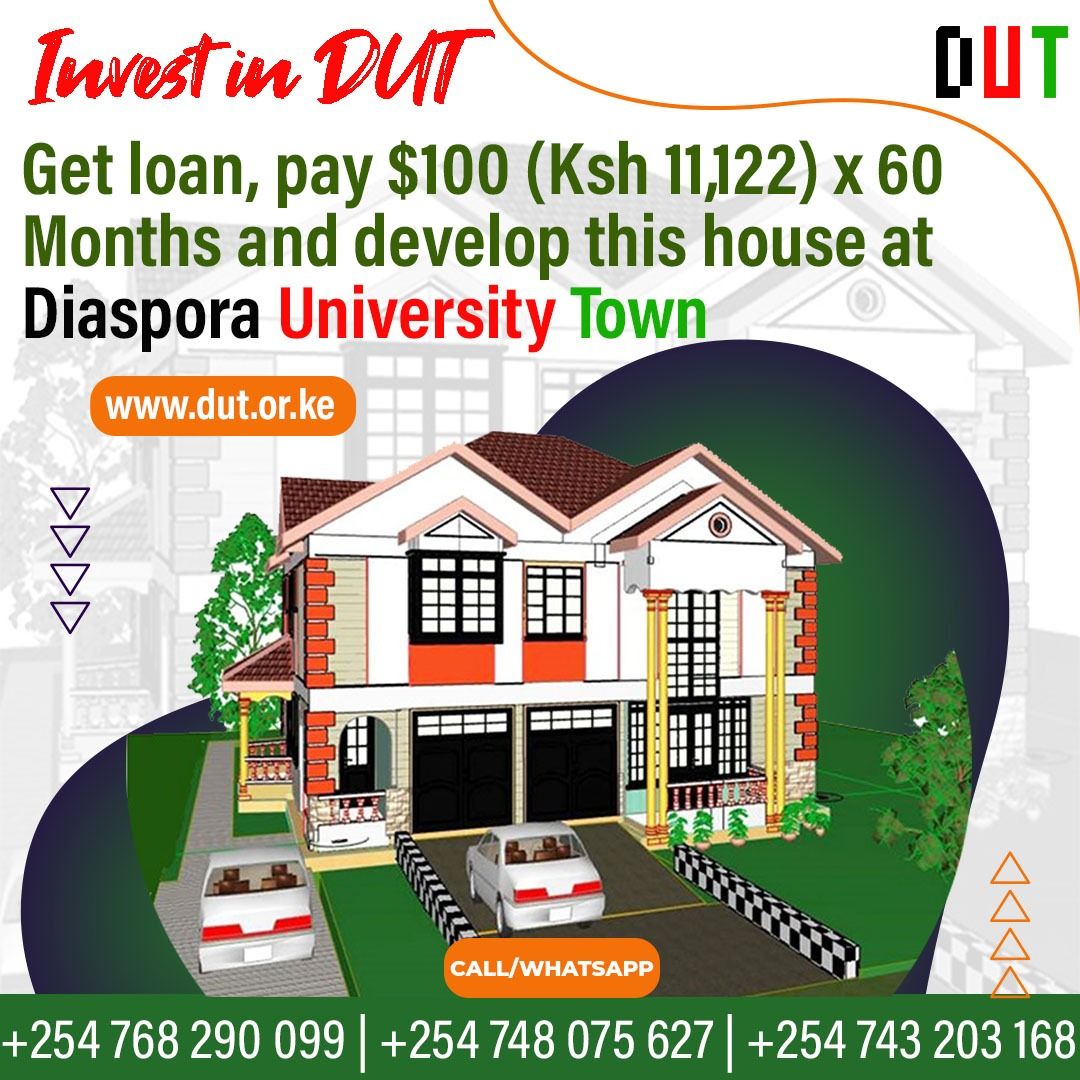 The DUT Diaspora Kenyans working to bring the 50 manufacturing companies to Kenya will create new wealth in Kenya. The Diaspora Kenyans will not only benefit Kenya with jobs, growth of Kenya GDP and new wealth; the Diaspora Kenyans will also benefit from their effort.
The Diaspora Kenyans see the wealth of the Koreans and Chinese in the U.S as interlinked to the wealth the Diaspora of these countries created in their countries. The stories of persons who built companies in their countries are the inspirational stories that are driving some of the Diaspora Kenyans to work hard and bring a company to Kenya through the DUT project.
The DUT's other projects include the Diaspora University, Diaspora University Hospital and DUT Credit Ltd that will grow to a bank. These three institutions will support the manufacturing companies. The manufacturing company will reciprocate and support the institutions.
Diaspora University Trust is making it easier for the setup of manufacturing companies by arranging for some of the resources that facilitate production. The Trust is arranging the property for the production, the finance for equipment and the operational capital through DUT project ordering products.